Information on the Programme
Cairdeas is a bespoke training, mentoring and integration programme owned and managed by Serve the City (Ireland), and is available to participants in counties across Ireland. Cairdeas welcomes members of migrant communities, asylum seekers and international protection applicants to partake in the many activities on offer.
The over-arching aim of the programme is to teach essential life skills and cultural diversity to participants through training workshops and select practical events, such as volunteering projects. At the same time, Cairdeas promotes social inclusion and cultural integration by offering a wide variety of tours to different Irish attractions and institutions, allowing participants to enjoy Irish culture and identify ways to integrate into the community.
There are over 80 volunteers associated with the programme in many different roles, including Garda-vetted mentors and coaches, tour leaders, life skills trainers and project leaders who conduct volunteering projects. Every volunteer on Cairdeas is dedicated to improving the wellbeing of our participants, always treating participants with dignity and respect.
In the first year of operation, Cairdeas helped 215 adult participants integrate into Irish culture, while at the same time allowing their children to participate in age-appropriate cultural activities. Highlights of 2021 included 43 mentoring pairings, over a dozen cultural tours in different counties in Ireland, monthly life skills training workshops as well as volunteering opportunities.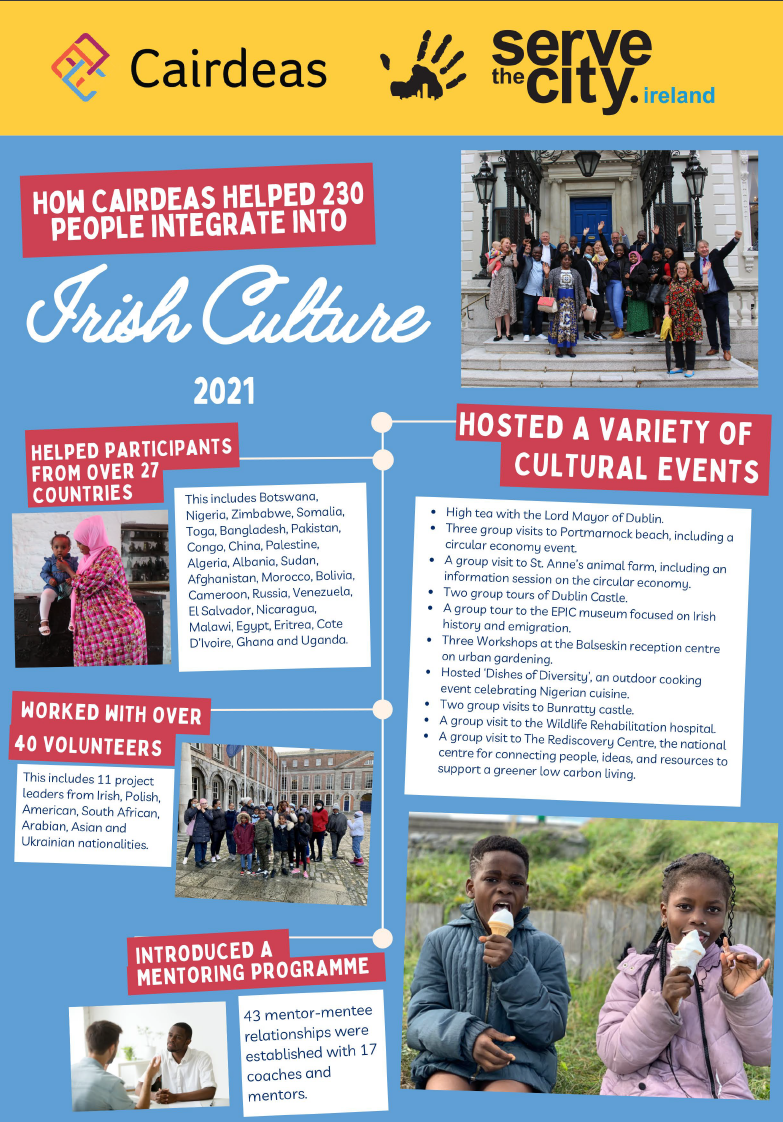 Volunteering Opportunities (no experience necessary)
Throughout the year, we offer all Cairdeas participants a chance to join a volunteering project to take part in an activity to improve their local community, meet Irish nationals and learn new skills. Now that the restrictions surrounding the pandemic have ended, we hope to offer volunteering projects more frequently in various counties and to also continue our work at Balseskin NRC, where we encourage residents to volunteer in community garden projects.
To get in touch as either a volunteer or a participant, please email Cairdeas@servethecity.ie